Are you talented enough to be on the InquisITeam?
Do you get things done?
Do you like to learn new things?
Do you own your results?
Do you hate doing the same thing over and over hoping for a different result?
Are you tired of the same old government contracting companies?
Would you like having a voice in your organization?
Would you like to join a company that's transforming the business of government?
Do you look great in a super hero costume?
If you answered yes to at least 5 of these questions, you may be InquisITeam material!
Are you talented enough to be on the InquisITeam?
Do you get things done?
Do you like to learn new things?
Do you own your results?
Do you hate doing the same thing over and over hoping for a different result?
Are you tired of the same old government contracting companies?
Would you like having a voice in your organization?
Would you like to join a company that's transforming the business of government?
Do you look great in a super hero costume?
Competitive & Industry Leading
InquisIT's goal is to provide a "top of the line" benefits package, driven by input from our InquisITeam, that demonstrates our commitment to attracting and keeping the market's most exceptional talent.  Benefits are regularly analyzed for value to the workforce to assure the investments we make are highly-used and affordable.  As a mid-market company, we are able to work with the individual needs of our InquisITeam while also having a mature benefits management program. In addition to our benefits, please ask about the I-Force Program and annual new certification payments. a
Paid Time Off
PTO hours accrue immediately and are available for taking time off for any reason.  Starting with 15 days elevating to 30 days/year over time.
Holidays
InquisIT matches the Federal Holiday schedule.
Jury Duty & Witness Service Pay
It is each person's civic duty as a citizen to report for jury duty or to appear in court whenever subpoenaed in a criminal matter. InquisIT is committed to allowing employees time off in these circumstances, and ensuring the employee avoids any financial loss because of this service. InquisIT offers up to 10 paid days per year.
Military Leave
InquisIT appreciates the sacrifices of our men and women in uniformed service and provides up to 10 paid days of military leave per year.
Bereavement Leave
InquisIT offers employees up to 5 days paid leave to employees who experience the loss of an immediate family member.
Medical, Vision, and Dental Insurance
Medical
InquisIT offers free basic employee healthcare and choice of 3 health plans (2 PPOs, 1 HDHP).
Dental
InquisIT offers a PPO plan with Unum. 
Vision
InquisIT pays for 100% of the monthly vision premiums for employee coverage.
Health, Flexible & Dependent Care Spending Accounts
Health Savings Accounts (HSA) 
InquisIT contributes $400 per year into your Health Savings Account for FTEs that are enrolled in our High Deductible Health Plan to be eligible to participate. A health savings account (HSA) allows you to save money, pretax, for qualified medical expenses that you're expecting, such as contact lenses or monthly prescriptions, as well as unexpected ones for this year and the future.
Healthcare Flexible Spending Accounts (FSA)
A Flexible Spending Account (also known as a flexible spending arrangement) is a special account you put money into that you use to pay for certain out-of-pocket health care costs. You don't pay taxes on this money. This means you'll save an amount equal to the taxes you would have paid on the money you set aside.
Contribution Maximum: $2,700. To view a list of eligible FSA expenses, click here.
Dependent Care FSA
A Dependent Care Flexible Spending Account (DCFSA) is a pre-tax benefit account used to pay for dependent care services, such as preschool, summer day camp, before or after school programs, and child or elder daycare. A WageWorks Dependent Care FSA is a smart, simple way to save money while taking care of your loved ones so that you can continue to work. Contribution Maximum $5,000.
Limited Purpose Account
A Limited Purpose Account (LPFSA) is similar to a Traditional FSA, which allows you to contribute pre-tax funds towards medical expenses. This account is for members in the High Deductible Health Plan participating in the Health Savings Account and funds are specifically for dental and vision expenses only. Contribution Maximum is $2,700. Your FSA has a $500 rollover, which allows you to rollover funds from your Traditional FSA or Limited Purpose FSA into the next plan year.
Group Short Term Disability
InquisIT pays 100% of premiums for employee coverage with a benefit of up to 60% of salary, up to $1,300 a week through Standard Insurance Company.
Life/Accidental Death and Dismemberment (AD&D)
InquisIT pays 100% of premiums for employee coverage with a benefit of 1x salary up to a maximum benefit of $150,000 per employee through Standard Insurance Company. Employees may purchase additional coverage for themselves and their eligible dependents.
InquisIT offers employees additional insurance options through Aflac. Aflac offers insurance policies for Accident, Critical Illness, and Hospitalization. These are all optional benefits available to employees at a savings over what you would pay as an individual using Aflac. The premiums are fully paid by the employee through payroll deductions.
401(k)
InquisIT's 401(k) plan is managed by Principal, one of the top retirement plan providers. Our plan provides many investment options that are customizable for each employee and risk level. InquisIT offers a match of up to 4% of employee elective deferrals. There is no vesting period for the employer match.
Roth 401(k)
InquisIT also offers a Roth 401(k) option, which may allow for the benefit of tax-free growth on contributions made.
InquisIT supports lifelong learning and professional development for its employees. By providing education reimbursement of up to $5,000 per year with no payback, we encourage employees to continue developing their knowledge and skills.
InquisIT offers a commuter benefit of up to $265 per month for transit and $265 per month for parking (subject to IRS regulation).
Eligible employees may request to receive transit vouchers and/or reimbursement for commute expenses after the 1st of the month following date of hire.
My Pet Protection is offered exclusively to employees and gives your pet superior protection at an unbeatable price. You will get 90% back on vet bills, visit any vet, same price for pets of all ages and more! Your Nationwide pet insurance membership comes with more than just outstanding coverage and service—you'll also enjoy perks designed to save you time, money and more. To view additional discounts, click here!
Legal Resources covers 100% of the attorney fees for fully covered legal services.
General Advice and Consultation
Family Law
Elder Law
Criminal Matters
Will and Estate Planning
Traffic Violations
Civic Actions
Preparation and Review of Routine Legal Documents
Real Estate
Consumer Relations and Credit Protection
Identity Theft
Recognition for the hard work and accomplishments of our InquisITeers is critically important.  We recognized Instigators, Disruptors, Contract of the Quarter, Contract of the Year, Program Manager of the Year and others for the sacrifices they make and commitment they bring our customers.
We strive to maintain the highest quality and turn to our employees as a resource in finding qualified candidates. Referral bonuses range from $250 to $750 upon the referred employee's successful completion of 90 days of employment.
InquisIT management uses Bi-Weekly reports from employees, feedback from customers, and direct observation to identify employees who exceed expectations and make significant contributions to their projects, and customers. Bonuses are awarded in amounts ranging from $250-$1,000.
Looking for a change? In the Federal market, personnel tend to be stuck in long term contracts with few new challenges to solve.  To move up you feel you have to leave or step away from the keyboard and take on management responsibilities.  It is on the shoulders of companies to start to really treat people like they are their most valuable asset and develop plans and programs that provide for alternate career progression and keep top technical staff inspired.  
That's where InquisIT's I-Force program comes in. Develop solutions on exciting new problems for multiple customers, research new technologies, grow your skills with unlimited (yes, really) training, and progress your career.
In addition, we have quarterly technical and leadership training, impromptu problem-solving workshops, and discussions with like-minded engineers and technologists. 
Career growth

Full health benefits for you and your family 

Professional development budget

Attend a week-long conference of your choice anywhere in the US

Quarterly meetings with the team 

Be a part of the guiding force setting the company direction and capabilities

Go-to group for innovative solutions

An extra week of PTO

An escape from tedium 
An organization's culture defines its goals, attitudes, and shared values that are put in place to drive performance and achieve its vision.  Focused exclusively on Federal contracting, we recognize that not only must our culture do all these things, but it must also blend with the diverse and unique cultures found across Defense and Civilian agencies.
The InquisITeam brings with them the vision of "Transforming the Business of Government" by making the government contracting community stronger through superior performance and stewardship.  The InquisITeam Credo sets the foundational behaviors, values, and attitudes that will achieve this vision while blending with our diverse customers. 
Obsess over customer satisfaction
Earn our customers' business every day
Execute every day to meet and exceed contract metrics
Pay attention to details in all tasks
Be highly responsive to all customers and InquisITeam
Work until the job is done right and be proud of my results
Not put off to tomorrow what can be done today
Dare to be creative and willing to fail
Display tactful honesty in all situations; even when difficult
Take responsibility for the environment in which I work
Management Availability 24×7
Coaching and resources for my success and my customer's success
An environment that fosters creativity and innovation
A meritocracy where both effort and results are recognized
Transparency from leadership and a voice in the organization
Know Someone that can be the right fit?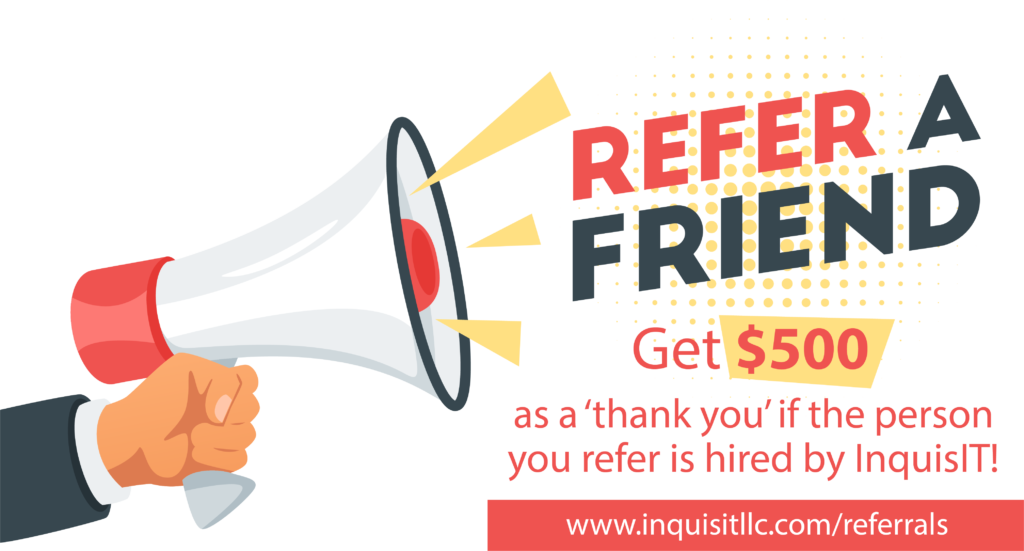 Refer someone you know today, and get $500 if they get hired by us!
We're on the hunt for the right candidates! If you refer the right candidate for any of our open positions and we hire that person, we'll pay you $500 just to say 'thank you'.