2020 has been the year of acceleration in Federal IT needs. Some agencies went from no remote work policy to maximum remote work within days, in many cases quadrupling the amount of teleworkers supported by their existing infrastructure. From de-normalizing data and conducting rapid preparations for machine learning and automated intelligence; to figuring out how to increase network bandwidth for access to mission critical applications and data without compromising security; federal agencies were left with open requirements around supporting entire teams for remote work while continuing to accomplish mission goals.
With such a dramatic increase in remote work comes the need to shift the infrastructure required to support large remote teams across the federal government. As a result, CIOs are increasingly seeing the need to leverage managed services to support the increased demand on their current infrastructure, including help desk support, end-point security, network bandwidth, data and application availability, etc.
As such, CIOs are placing more emphasis on managing their IT contractors based on Service Level Agreements and hard quantified metrics around projects to ensure the availability of services for federal teams working remotely.
This shift requires greater accountability and the ability to focus on mission and data related responsibilities. Therefore, it is important to ask the right questions when vetting a potential managed service provider to ensure they can properly support your federal agency.
So what should you be asking?
How proactive is your incident and problem management strategy?


Proactive incident and problem management is an ongoing activity that tries to identify issues to prevent resulting incidents from happening. MSPs that don't follow proactive problem management practices across their managed service offerings introduce unnecessary risks into your organization.


How do you monitor performance?


An important part of being proactive is understanding the levels of performance and creating automated alerts to detect abnormal events.


What level of visibility will you provide into the performance of your solution?


An MSP should be willing to provide customers with a near real-time view of how their infrastructure is performing. You pay them for a level of service and you should be able to see that you're getting your money's worth.


What security controls are in place for your solution?


Depending on the type of service you are outsourcing, vendors require different levels of access to your systems. They should be ready to explain in detail how that information will be secured.


How scalable is your solution?


A key benefit to a managed service provider is the ability to scale services easily, you should be able to add users easily as mission needs change and grow


Where have you implemented a similar solution in the past?


Just like with any acquisition, past performance is key. What do their previous and current customers have to say about them?


How much will it cost?


One of the most important benefits to switching to an MSP is the potential cost savings. If the cost savings aren't lower for a similar level of service to what you have now, you should keep shopping.
---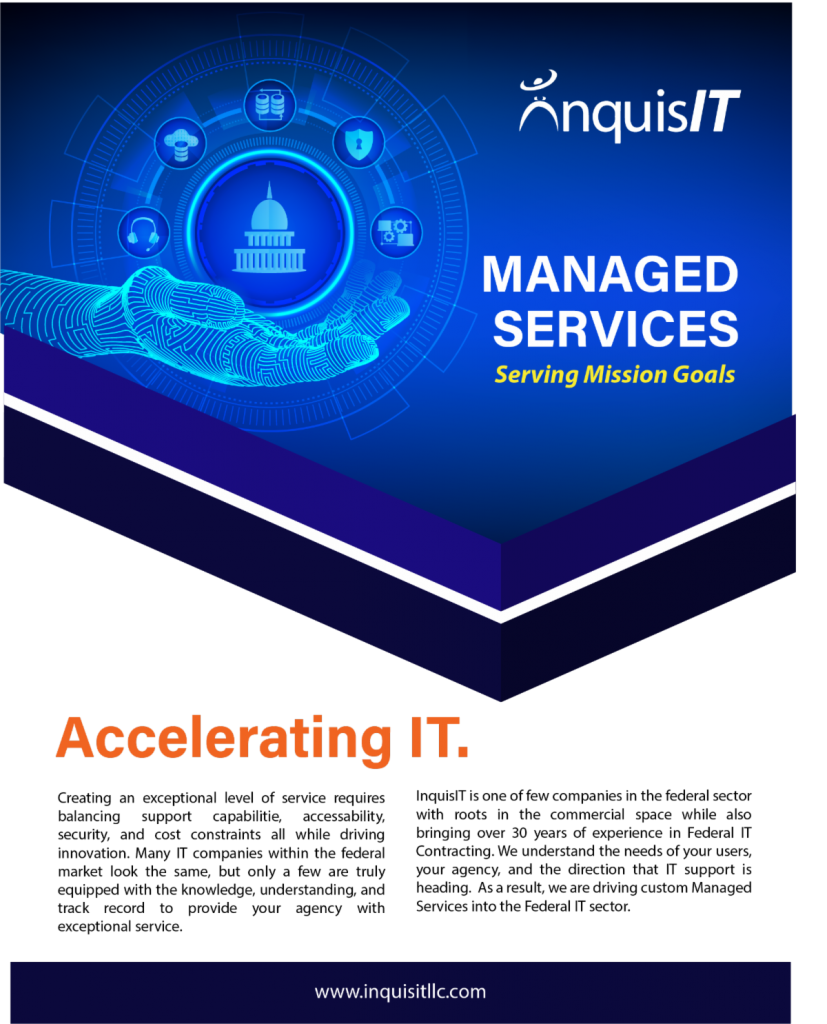 By partnering with InquisIT for Managed IT Service, your agency receives the following benefits:
Frees up your team to focus on actual mission priorities
Predictable Low Costs
Scalability
Consistent High Quality Service
Minimized Downtime
Proactive maintenance
Access to IT Specialists at much lower cost
Data Compliance
Reliable remote work capability